Deck / Fence Cleaning
Proudly serving Murfreesboro, Rutherford County and Surrounding Areas! Serving in all of Rutherford County and Surrounding Areas!
At Top Shot Pressure Wash, we specialize in deck and fence cleaning! Unfortunately, these fixtures are constantly exposed the fury of Mother Nature. Just like the siding on your home, wooden decks and fences (vinyl fences too) collect organic growth. We can safely eliminate the organic growth and make your deck or fence look years newer! We clean not only wooden fixtures, vinyl and composite fixtures as well!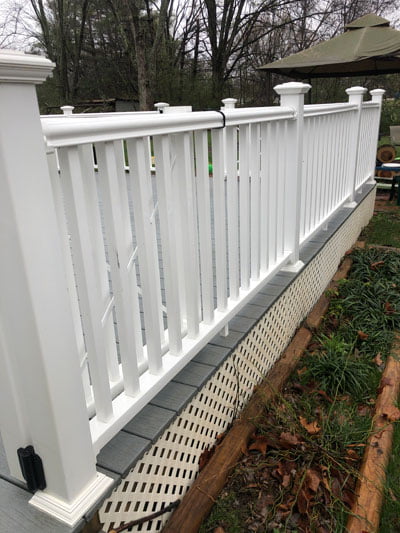 Deck Cleaning
Top Shot Pressure Wash is Murfreesboro's highest rated deck cleaning service! One of the most important reasons to get your deck cleaned is safety! When wooden surfaces are covered in organic growth such as algae, they are extremely slippery when wet. Please take into consideration the safety aspect as well as the aesthetic when considering whether you want to get your deck cleaned. We clean not only wooden decks, but composite surfaces such as Trex deck as well! Our deck cleaning service is typically done without the use of high pressure, which can damage or fur wooden surfaces. Rather, we use a mix of environmentally safe chemicals and low pressure to make your deck look years newer.
Fence Cleaning
Our proven deck cleaning methods are just as effective on your wood or vinyl fence as well! The cleaning detergents are specially designed to gently eliminate algae, mold, and bacteria growth leaving your fence looking years newer!
We take pride in being Googles highest rated pressure washing company in Murfreesboro and Rutherford County. Customers continually choose Top Shot Pressure Wash for our commitment to excellence and attention to detail. We promise to treat your property as if it were our own. Customers continue to trust us with their residential and commercial cleaning services because of our commitment to excellent work. Every service is backed by a 100% satisfaction guarantee. We're not happy unless YOU are happy. Make Top Shot Pressure Wash your preferred deck cleaning service