Roof Cleaning
Proudly serving Murfreesboro, Rutherford County and Surrounding Areas!
Your roof is arguably the most important part of your home to keep you dry! It serves as a protective barrier for your entire home. Your roof is built to take a beating from Mother Nature for years and years. Though, over time organic growth can accumulate on your roof in the form of black streaks (Gloeocapsa Magma), Lichen or Moss. Not only does this organic growth hurt your curb appeal, but it can shorten the life of your roof as well if left untreated.
If you would like to learn more about our roof cleaning process or to schedule a FREE estimate, call today!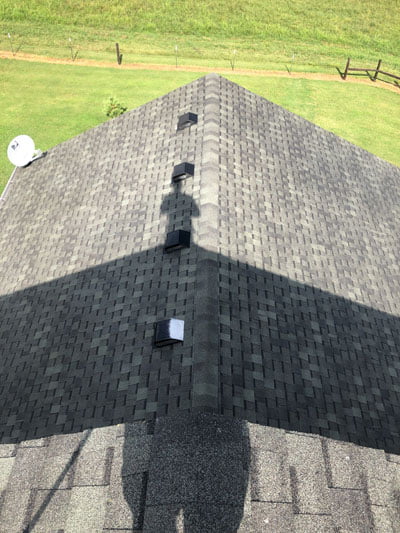 Roof Cleaning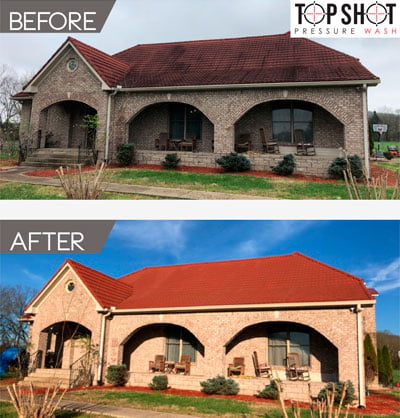 We use the same roof cleaning method prescribed by the Asphalt Roofing Manufacturers Association to safely and gently clean your roof. We use a special blend of cleaning detergents that are designed to work down to the root of the problem – eliminating algae and mold spores before they spread.
If this organic growth is left untreated, it can spread across your roof, deteriorating your roof shingles and leaving you susceptible to water and flood damage.
Soft Washing
It is critical that no high pressure ever be used to clean your roof. High pressure would prematurely remove the granules on your shingles, shortening the life of your roof. Rather we use a soft wash method to gently kill organic growth and its root system.
Great Service Guaranteed
We take pride in being Googles highest rated pressure washing company in Murfreesboro and Rutherford County. Customers continually choose Top Shot Pressure Wash for our commitment to excellence and attention to detail. We promise to treat your property as if it were our own. Every service is backed by a 100% satisfaction guarantee. We're not happy unless YOU are happy.
We offer a one-year guarantee on all our premium roof cleaning services. Make Top Shot Pressure Wash your preferred roof cleaning service!